Brentwood Hills

Brentwood Hills is a deed restricted Pool and Tennis community consisting of over 1000 homes in the Brandon/Valrico Florida area. Despite its size, Brentwood Hills remains geared towards involvement with several activities that people can take part in. Construction starting in 1989, this community has done nothing but move upward. With a diligent council of neighborhood members who have been elected each year, the small community blossomed into a wonderful living environment.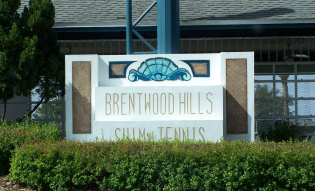 Over the past few years, a number of improvements and modifications have been made in order to enhance the quality of this exceptional community. The latest project for Brentwood Hills, which was completed within the past six months, was a renovation of the irrigation and sprinkler systems throughout the complex. With many more improvements and projects designed to up-keep the existing assets in line for completion, this community only improves as time passes.
Within the Brentwood Hills community there several amenities including a fully privatized swimming pool, soccer field, tennis courts, playground, clubhouse, and a private preschool for the children of Brentwood homeowners. Last summer, a newly renovated lounge area was opened up at the community pool. This area has already been the site for several community-wide activities, such as Summer Pool Days, pot luck BBQs and family picnics. Community closeness is emphasized within this community, which makes a warm and friendly environment that welcomes visitors as well as future homeowners.
The people living within the Brentwood Hills area have access to a number of the finest public and private preschools, elementary schools, middle schools, and high schools. Within close distance are Brooker Elementary and Burns Middle schools. There are also several highly desirable high schools in the surrounding areas. The schools within the area offer a good student to teacher ratio and support a wonderful learning environment where students can thrive and learn good habits for a bright future.
The convenient location of the Brentwood Hills community leaves homeowners within minutes of the Brandon Florida area Mall as well as other shopping, dining, and entertainment options. In addition, there are several employment opportunities, health care centers, and service facilities in the Brandon or Valrico area, just around the corner from this amazing community. The interstate systems are also very easily accessed from this location. Whether the commute is to Tampa, Mac Dill, or Lakeland Florida, the interstates are close, making the trip and gas mileage better and easier to handle!
The Brentwood Hills Home Owners Association plays a major role in the development of this community. With summer activities such as community-wide BBQs and picnics, this group of volunteers certainly needs all the help they can get. Though the Brentwood Hills HOA itself is limited to just seven members, it remains an open ended operation with room for volunteers to help put on its major productions such as Santa's visit, the Holiday decoration contest, and the Weekend Motorcycle Ride for all the bike enthusiasts that live within the complex. As well as the homeowners committee, there is also active involvement from the Architectural Control Committee, which consists of neighborhood elected members, who meet to discuss and approve additions and modifications to existing homes and areas within the community.
The Brentwood Hills area offers more than just homes, it offers a way of life for anyone who resides there. With plenty of activities that both the young and the old will enjoy taking part in, this community is the ideal place to live! Homes are available for purchase within the Brentwood community, don't miss out on this opportunity, contact your local Twin Palms Realty Inc Agent today!