Buckhorn

A relatively new area, Buckhorn is a well developed Golf Course community of over 600 homes in Valrico Florida. With an Estates Special Dependent District Board of Trustees that has been founded and kept-up by volunteers from the neighborhoods, the people living in this community remain united under a common front. Announcements from the board are posted online to help keep the Buckhorn area up to speed on the latest community news, and if you're not able to access the internet, important features are posted on bulletin boards found throughout the area. The current homeowners in the Buckhorn neighborhoods create a welcome and inviting ambience focusing on family with every intention on keeping things appropriate for children, and for adults as well.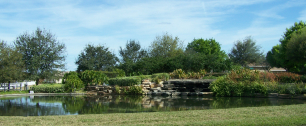 There is currently a nineteen-acre site adjacent to Buckhorn that will give homeowners easy access to shopping and eateries. With Class A businesses and restaurants in mind, the spaces will compliment the neat, tidy, and well-kept appearance of the Buckhorn area. These new projects are expected to be completed in the third or fourth quarter of 2007. The future restaurants and stores will cater to the shopping and dining needs of the homeowners of the area, as well as provide employment opportunities for area homeowners. In addition to this future plaza, there are several upscale and casual dining options close by. Also available are grocery stores, pharmacies, convenience stores, gas stations, malls, movie theaters and banks. Located a short distance from the interstates, people in Buckhorn have easy commute to Tampa, Brandon Florida, MacDill, or Lakeland Florida.
Families living in the Buckhorn area are privy to a newly remodeled private golf course as well as tennis courts and swimming pool. Buckhorn Springs Golf and Country Club features 6,888 yards for an overall par of 72. With 18 regulation holes as well as 10 tees on the driving range, this is the perfect course for any skill level to play. The clubhouse rents out golf carts for anyone who wishes to play on this great course. Within the past 10 years a public park was constructed specially for the families and children living in Buckhorn. This park includes a water fountain, basketball court, jogging trail, and a play area for the smaller children. It is a great place to invite friends and family to join in the events. During the summer months and holidays, there are several Board of Trustees sponsored activities, including a "Buckhorn Bunny Bonanza" during the Easter season, a "Buckhorn Boo Bash" for Halloween, and "Santa at the Park" immediately following the neighborhood Christmas parade!
For the people living in Buckhorn, there is also a wonderful access to Buckhorn Elementary, with some areas within walking distance as well as a bus service for the children who need it. With a 21: 1 student: teacher ratio, children will get the attention they need to thrive academically during their key fundamental development years. There are also several highly-rated and desirable middle and high schools, as well as several choice private schools that offer the finest education around.
Overall, the Buckhorn area serves as a beautiful place to live. The streets are impeccably kept, and lawns well managed. With playgrounds, organized sports, and the YMCA in the surrounding areas, structured and protected fun and exercise facilities make this a great location to live. With a council of volunteers consisting of over 100 individuals from the Buckhorn area, the only way for things to go is up! The Board has negotiated a deal with local exterminators and a local lawn care company to make lawn care and pest control more convenient and cost effective for everyone in the area. A recent stop-light installation on a high traffic street serves as an example of the way people in Buckhorn take the initiative to take what they believe are the right steps to keep their families safe, and their area in prime condition.
There are a number of lovely homes available within the Buckhorn community. The residences and great surroundings make this an amazing place to live! Call your local Twin Palms Realty Inc Agent today!