River Hills Country Club

When you picture a rolling hilly terrain with lush green grass and beautiful lakes and creeks abundant with flora and fauna, typically a housing community does not come to mind. Yet that is exactly what you see when you step onto River Hills grounds in Valrico Florida. A member of the Audubon Cooperative Sanctuary Program, over 1200 acres of idyllic living and a superb golf course make up the River Hills Community. To be a resident of River Hills, it is not required to be a member of the Country Club but if future homeowners opt for membership they have exclusive access to the Private Golf Club, Tennis Courts, and workout facilities.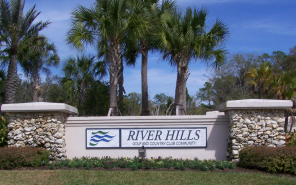 River Hills is the only fully-gated community with fully-privatized roads and 24-hour security on hand. In order for a person to gain access to the community, they must pass through an entrance gate. This has created a virtually crime-free zone where people can feel safe. With an impeccably maintained exterior, the neighborhoods within River Hills are the picture of perfection.
River Hills is an exquisite golf-course community with a beautiful 18 hole, par 72 golf course, designed by Joseph Lee. In addition to the golf course, River Hills Country Club also offers over twenty tees on a driving range, to help the patrons get that "perfect shot." Set on an extensive 200 acres with a member's only lighted tennis arena with clay courts, a junior Olympic-sized swimming pool, and golf course, the River Hills Country Club experience is one of a kind. Golf lessons are available for beginners. The MYPRO Golf School has opened up its business at the River Hills Golf Course. Private lessons, private playing lessons, group golf clinics, and corporate golf training is available.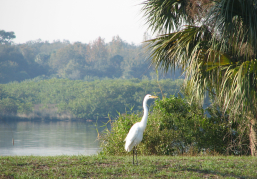 Inside the River Hills Clubhouse, there lies the perfect venue for any event from an informal family reunion to the most luxurious wedding. Most parties will fit into the large main hall, but if your party requires extra space, there is a second adjoining atrium which can also be used for your gathering. Unlike other event venues that you might encounter, the River Hills Clubhouse has a full staff that is more than willing to go the extra mile to ensure your event is one you will not forget! Each week, members of the club can enjoy Friday Night Dining, where the kitchen staff of the Clubhouse showcases their culinary expertise. There are also basketball courts, playgrounds, walking paths, and a gym service that is offered to members. Membership fees are only nominal compared to all of the activities that are instantly made available to a person who joins.
Homes within the River Hills Community have a variety of price ranges starting at $200,000 to over $1 million. All of the homes that are available are contemporary design suited to Florida lifestyles, many homes are available with hard to find features such as a golf course, conservation, and lake front lots.
Within the immediate area around River Hills there are several grocery stores, pharmacies, shops, restaurants, banks, and convenience stores. In addition to all of the great local area shops and restaurants, there are other great locations that can be easily accessed by the local highway system. The schools in this area are very desireable and the elementary school is within biking distance for children living in the River Hills community. There are also many other highly rated private and public schools within the area.
All of the activities that occur daily on River Hills grounds are the perfect way to keep busy during the lazy summer months, and whether you are just a beginner or if you are on the PGA tour roster, the River Hills Golf Course offers an entertaining way to spend a Saturday. Stores and restaurants nearby make it a perfect location for entertainment, and a fully-staffed Club House with culinary experts that make dining a pleasure. River Hills is also an ideal location for the commuters, whether your destination is Tampa, Brandon Florida, MacDill, or Lakeland Florida, the trip is easy with this prime location. There are many Luxury Homes available, and even a few Waterfront Homes, so call your local Twin Palms Realty Inc Agent today!